Product images and description are for reference only. Product appearance and specifications may vary from what is depicted.
An ideal solution for anyone who wants to use their laptop or desktop to play full HD movies on a TV over 20 TV. Normally the PC display resolution support is only up to 1280x1024. Especially in many laptops, their display is fixed. To remedy this problem, the Winstar USB2.0 to HDMI adapter provides up to 1080p video resolution (Full HD) + 2.1CH stereo sound through HDMI extended to your large TV. You can easily play HD movies, internet movies (like YouTube) using this device to display on a large screen TV. There is a wide range of media player software tools that suits all video formats. Apple fans will be pleased to hear this USB2.0 to HDMI adapter is Mac compatible.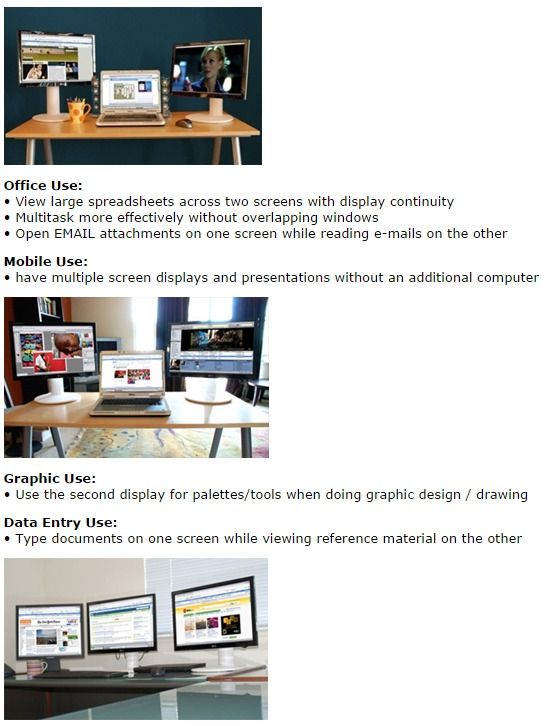 Wall Street / Shares monitoring: 

Use a notebook for viewing multiple screens. View charts and live data at the same time



Entertainment: 

View videos/TV on one screen and your desktop on the other 

Easily connect additional monitors using a USB 2.0 cable 

Enjoy resolutions of up to 1920 x 1080 at 64 bit color,

Effortless multitasking 

Bus powered - no external power supply needed 

Supports usage through powered KVMP™s or USB hubs

Features

PC/notebook connected via USB 2.0, and outputs through the HDMI connection
Fully supports LCD monitors and TVs with HDMI input
Resolutions include VGA mode right through to full HD (High Definition) mode. A total of 15 resolutions
Primary Mode, Mirror Mode, Extend Mode, and Screen Rotation Mode selection
Build in 2.1ch stereo sound effect output
Earphone jack or can act as a Line Out to amplifier for full and rich sound
Low power consumption, only USB power input, no external power adapter required
Hot Plug device and monitor detection after driver installation
Microsoft Windows OS and Mac OS support
Mobile, small and portable
Easy installation
Video Resolution Support
640 x 480 - VGA Mode
720 x 480 - NTSC Mode
720 x 576 - PAL Mode
800 x 600 - SVGA Mode
1024 x 768 - XGA Mode
1152 x 870 - Common in Mac System
1280 x 720 - HD 720 Mode
1280 x 800 - WXGA Mode
1280 x 960 - Common in Video Camera
1280 x 1024 - SXGA Mode
1360 x 850
1400 x 1050 - SXGA+ Mode
1400 x 900
1680 x 1050 - WSXGA+ Mode
1920 x 1080 - HD 1080 Mode
Audio Codecs
Embedded High Performance 16-Bit Audio DAC
48K / 44.1KHz Sampling Rate for Playback
Data Loss Noise Reduction Function
Embedded 16-Bit ADC Input with Microphone Boost
Operation System Support
On line driver update
Microsoft WHQL Cert. approved:
Windows 2000 SP4,
Windows XP SP2 and SP3
Windows Vista 32 and 64 bit, including 3D Aero
Windows 7 32 and 64 bit, including 3D Aero
Mac OS:
Intel Based Macs
Tiger 10.4.11
Leopard 10.5.8
Snow Leopard 10.6.2
V.16 beta for Snow Leopard 10.6.2 64bit
LED Indicator
Green colour
USB Connector
Mini USB female type
HDMI Connector
Standard HDMI 19pin female type
Power Input
USB port internal power DC 5V
Dimension
W:10cm x D:5cm x H:2cm
Operation and Storage
Operating Temperature 0°C to 40°C
Storage Temperature -20°C to 60°C
System Requirements
Processor: Intel Pentium IV 2.4G or equivalents Level
Memory: 512MB or above
Host: USB 2.0 Port available
Disk Space: 30MB available
Operating System: Microsoft Windows 2K above or Mac OS X
Package Contents
1 X USB HDMI & audio adapter
1 X Driver CD
1 X USB 2.0 extension cable
1 X Quick installation guide
1 X Audio adapter

* Specifications are subject to change without notice.
* Specifications may vary.
* The product picture(s) is only for your reference, it may differ from the actual product.